Save up to 15% off Canada's leading practice management software.
GOrendezvous helps tackle the complex scheduling needs of Athletic Therapists and gives your clients a user-friendly experience.
From a solo therapist to a growing team, you can be sure that the features and security of GOrendezvous allow you to effectively run your practice.
What makes GOrendezvous unique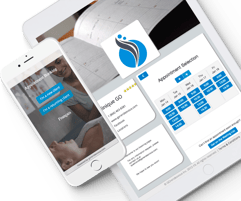 - Reduce no-shows with emails & SMS reminders that allow clients to confirm their attendance.

- Avoid loss of income with automatic cancellations' replacement
- Online booking is passwordless, 54% of potential clients will abandon the process if they have to create an account
- Flexible & secure electronic charting

- Online payments and deposits

- New TELUS eClaims fully integrated
As a CATA member, you can now SAVE UP TO 15% OFF a GOrendezvous subscription.
Free and friendly onboarding. Our team helps you get an easy start for free. Dedicated account managers are available to make your transfer the easiest possible.
Discover what GOrendezvous is all about in our 2-minute explanation video.
---