François Grenier tells us about his successes with GOrendezvous since 2016
It has always been important for me to offer online booking. I know that online booking makes my patients' life easier and increase their satisfaction. They enjoy being able to look online without having to make a phone call, or to book an appointment in the middle of the night for the next day.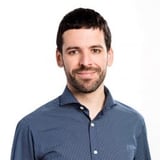 My former online booking system was very laborious and was confusing for our customers. They did not really understand how to use it and I had to make a lot of adjustments afterwards.
In order to make my life and my clients' life simpler, I changed for GOrendezvous and never regretted my choice. The platform is always evolving, new features are always being added, bugs are rare and immediately taken care of when they happen.
The numerous options enable me to personnalise the online booking experience in any given situation and each therapist, as unique as he or she can be, appreciates the flexibility and the adaptability of the service for his or her professional practice.
In our clinic, about 50% of the new clients book their appointment online and 80% of the recurring clients use the system. Booking an appointment over the phone requires an average of 5 minutes, without counting the voicemails, the call backs and the troubles to talk to the person directly. With almost 1000 appointments per month, and 5 minutes per appointment, we are talking about almost 66 hours of work! Saving 66 hours of work a month allows me to invest this time in the management and development of my clinic.
I even managed to adjust GOrendezvous to be able to offer the online booking appointment for my chair massage service in companies. Big companies like the simplicity that an online booking system offers them for their employees.
I will never go back and even if I were to hire a receptionist, I would keep offering the online booking service with GOrendezvous to lighten the workload and therefore enable her to offer a better service for the clients at the clinic.
Regarding the computerized files, I was starting to lack space for our paper files and was thinking about renovating a new local mostly for storage purposes. With a small monthly fee, GOrendezvous enabled me to prevent this premature expansion.
I want to thank the entire GOrendezvous team for having created such a good service that became a driving force for the development of our clinic. I wish you to continue to grow for the benefits of our clinic's clients!


François Grenier, kinesitherapist and founder of the Clinic Kiné Santé at Montreal